[columns indent=»33″] [column places=»2″]
Reception
Giving our patients a personalized treatment in a relaxed and friendly environment is of the utmost importance to our clinic and its team. The spacious, air conditioned rooms provide a comfortable place for the patient during the treatment sequence. Our patients will be informed and attended at all times by our staff.
The computerized program which we use in our clinic gives us the possibility to set up easily a treatment plan, prepare an estimate of the treatment cost and organize appointments on demand. This system makes it easier to communicate efficiently and professionally with our referring dentists to perform interdisciplinary treatments of high quality.[/column] [column]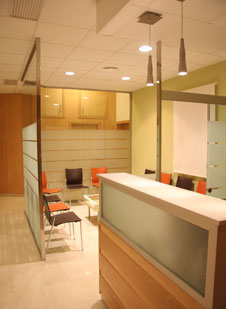 [/column] [/columns]
---
[columns indent=»33″] [column places=»2″]
The office for the first visit 
To ensure a positive experience during the first visit our main goal is to respond with quality and excellence to the needs of our patients in a comfortable environment.
After you have been filling out a medical history form, we will listen to the reason of your visit and what your wishes are. With that information in mind we perform an intraoral exam to evaluate the present oral condition and to be able to determine a diagnosis and set up a treatment plan.
At the end of the visit the patient will receive a detailed estimate of the costs of the treatment. If the patient accepts the proposed treatment we can organize the next couple of appointments.[/column] [column]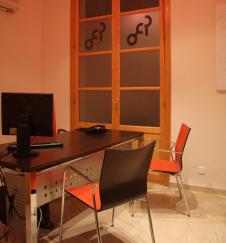 [/column] [/columns]
---
[columns indent=»33″] [column places=»2″]
Diagnosis unit
After the first visit and after evaluating the general health of our patients, we perform a clinical study during which we examine in detail the condition of the supporting tissues of the teeth.
For a precise diagnosis, we use the latest diagnostic technologies (genetic and microbiological tests) combined with a modern equipment which makes it possible to analyze and determine for every case the most adequate and efficient treatment plan.
[/column] [column]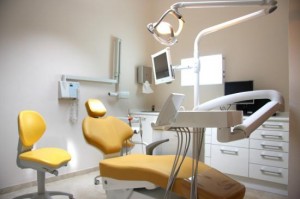 [/column] [/columns]
---
[columns indent=»33″] [column places=»2″]
Treatment unit 
Periodontal disease is a complex pathology with a multifactorcharacter which requires a treatment done in a meticulous way and by specialized professionals. In our centre we guarantee that every periodontal treatment will be performed by a specialist in periodontology.
Using specific instruments and the most advanced technologies give us the possibility to perform the most innovative and comfortable treatments.[/column] [column]
[/column] [/columns]
---
[columns indent=»33″] [column places=»2″]
Sterilization unit
Sterilization is a process to destruct and eliminate any microorganism.
In the IBIP clinic we use an autoclave equipped with latest-generation electronics, produced with SMT technology and new temperature sensors. The autoclave controls every phase of the cycle and immediately signals any anomaly which could compromise the regular performance of the sterilization or test cycles.
In conformity with the EN 13060 standard, carries out fractioned vacuum stages, as required for autoclaves that are able to perform type B cycles, for the sterilization of solid objects (forceps, instruments, etc.), hollow bodies (turbines, hand pieces, needles, etc.) and porous materials, both pouched and not. Sterilising times can be increased to deal with particular requirements of the dentist.
It is equipped with a graphic interface, which can be displayed on a PC, which allows to monitor the characteristics of the cycles performed, and to signal any irregularities.
[/column][column]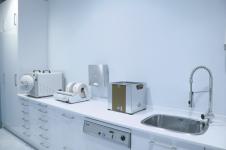 [/column] [/columns]